Access Your Custom Report Dashboard Now!
Simply connect your Google Analytics account to prove you're a marketing hero and get advice on improving your performance with this free report dashboard.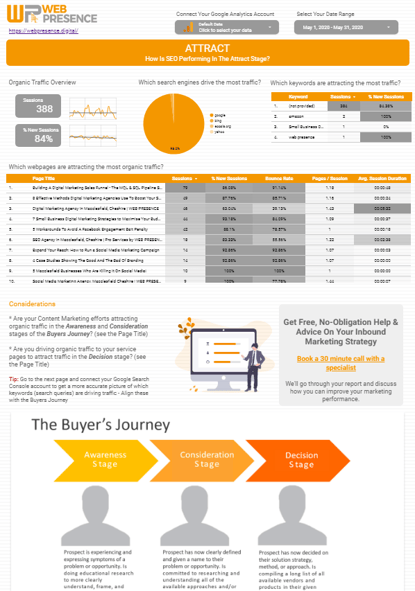 Analyse how your website is performing in the attract and convert stages of the Inbound Marketing lifecycle to gain invaluable insights into your marketing performance.
Determine how your content marketing efforts are performing in the awareness, consideration & decision stages of the buyers journey.
Submit the form to access your report and follow the simple instructions to make it your own >>
BONUS
See our recommended strategies on how to close more deals and delight your existing customers.
Your Questions Answered;
Which channels attract the most traffic?
Which are the best (and worst) performing webpages, blog posts and resources?
Which channels drive the most conversions?
How are visitors are engaging with your website?
How can you improve your marketing performance?
And much more..