How can Google Ads Grants Help your Not for Profit?
Google Ads Grants provide up to £84,000 a year in free ad spend for not for profits across the UK that can help you to grow your services, raise additional funds and get the word out there about the work that you do.
Whether you need help recruiting additional donors, raising funds for a cause, or just building awareness of your charity, with Google Ads Grants we can help your not-for-profit to go FAR.
What are Google Ads?
When you search for something on Google, the top few results are typically paid Google Ads. What makes these great is:
You only pay when someone clicks on your ad - there's no cost to share your message
You get relatively instant visibility compared to the time it takes to reach the high 'organic' positions
You get all the data on how visitors are engaging with your ads so you can continually improve
You show in relevant results. The searchers are already looking for what you offer at the time they click your ad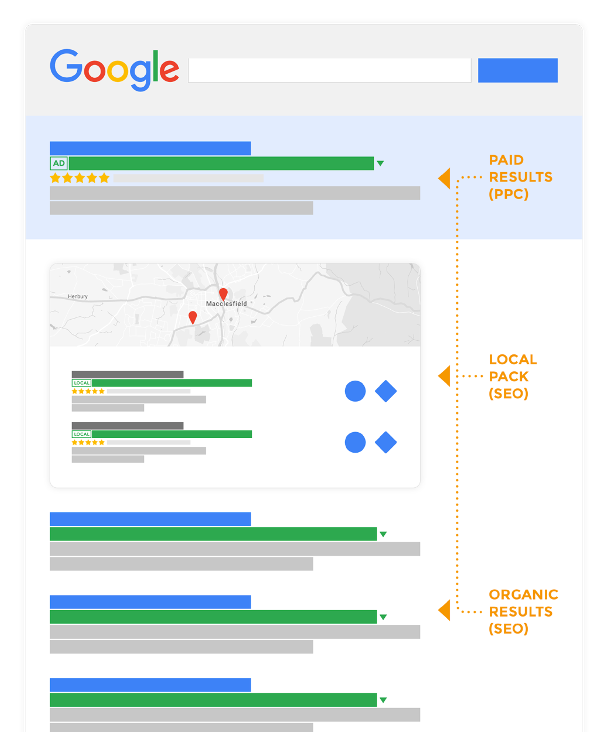 What are Google Ad Grants?
Google want to help nonprofits share their cause with the world.
To help with this, they provide advertising grants of up to £7000 per month for any qualifying nonprofit charitable organisation.
The funding is ongoing for as long as you need it, and there are only basic requirements to maintain eligibility.
Who is eligible?
The eligibility requirements for the grants are much more relaxed than many funding opportunities. We'll review your eligibility before starting any service, but the basics are:
You must be a qualifying nonprofit charitable organisation. By 'qualifying', they generally mean you're not a:

Governmental entity or organisation
Hospital or healthcare organisation
School or academic institution

You have to have a website and meet some basic requirements
You must be registered with the relevant charity regulator
You have to register - there's no pitch or presentations required and you don't have to make the case for why you should receive the funding
Frequently asked questions
We're happy to answer any questions, but here are a few answers to the most commonly asked questions.
What are the limitations?
There's a maximum bid of £2 per click which can be negated by choosing relevant bidding strategies.

You can only use the ad grants for Google Search Ads. Display network banner ads and video ads are not currently eligible.

You must maintain the minimum quality criteria set by Google or you can lose your funding if searchers don't click on your ads enough.

You have to make use of conversion tracking and track meaningful interactions, which we always recommend anyway.

The budget equates to around £230 per day, which can be limiting around events or time-sensitive campaigns.

You can however supplement this campaign with a normal paid account to make up for any of these missed areas.
Will we spend the full budget?
We're unlikely to be able to spend the full £7000 each month unless you're a national charity in a highly searched topic.

In these cases, it's best to think of it as an unlimited budget, and focus on your search impression share to determine success.
We already have a partner in place for tech/advertising
Whilst we can provide a range of digital marketing services, we don't need to be your exclusive provider.

We can act as a bolt-on to your existing team and focus purely on the Google Ad Grant campaigns, coordinating with your existing team.
The F.A.R system
What is the F.A.R system?
The F.A.R system is our framework for running successful Google Ads campaigns for nonprofits.
It's designed to limit scope and complexity in ad campaigns so we can provide great value - approx. 50% cheaper than the commercial equivalent service while requiring only minimal input from you.
The F.A.R system provides campaigns focused on Fundraising, Awareness and Recruitment activities. This allows us to focus on reaching your target audience, amplifying your message and achieving your goals.
How do we keep costs low?
The F.A.R system aims to keep costs low via efficient processes and smart use of resources, rather than compromising on quality.
By keeping the important elements unique to you, but pre-making, automating, or sharing other resources we can achieve that goal.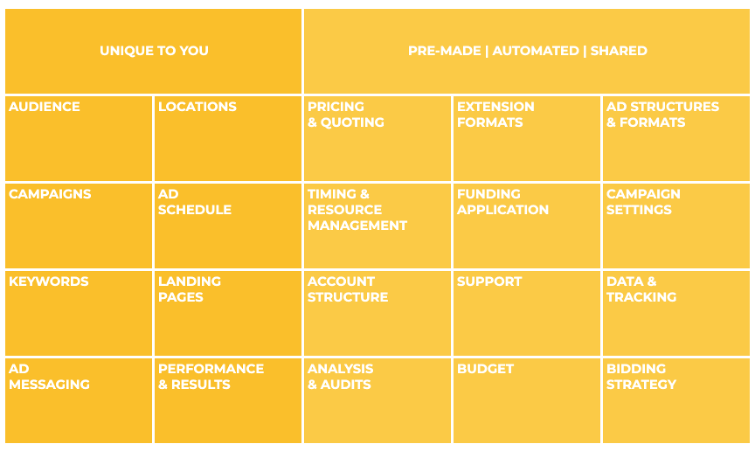 How do we ensure successful campaigns?
We have tailored our PPC process to suit nonprofits, aiming to get the best possible results with limited investment.
Our FAR system covers securing funding, gathering the right information, campaign setup and ongoing improvements.

Pricing
We've worked to keep the pricing of this service simple and transparent so have only three packages available to suit all budgets. We'll share these packages, pricing, and what's included in each on our initial discovery call.
Why Web Presence?
We're a nice bunch of people so hopefully you'll take the time to book a call with us and get to know the team. In advance of that, what you should know about Web Presence is:
We're veteran Google Ads experts with more than 15 years experience. Our team are skilled and know how to produce results.
We have tried and tested methods which have succeeded over years of experimentation.
We have developed this as a dedicated service for nonprofits. It's built from the ground up to do a great job and there's no upsell to a bigger service later.
We're results focused and have a jargon-free approach to digital advertising.
We offer a cost-effective solution to making use of Google Ads and the Google Ad Grants.
Next steps
Hopefully all of this sounds very exciting! If you'd like to learn more, just fill out the form on this page and we'll arrange a discovery call with you. From that call we will:
Answer questions you have

Check your eligibility

Learn about your organisation

Understand your fundraising, awareness and recruitment goals

Provide estimates of how many people we may be able to reach

Share pricing and choose the most relevant package for you

Begin your funding application and campaign creation